Ahwatukee man designs new kind of saddle shoe for the golf course
By Jim Walsh, AFN Staff Writer | Posted: Friday, November 4, 2016 6:00 am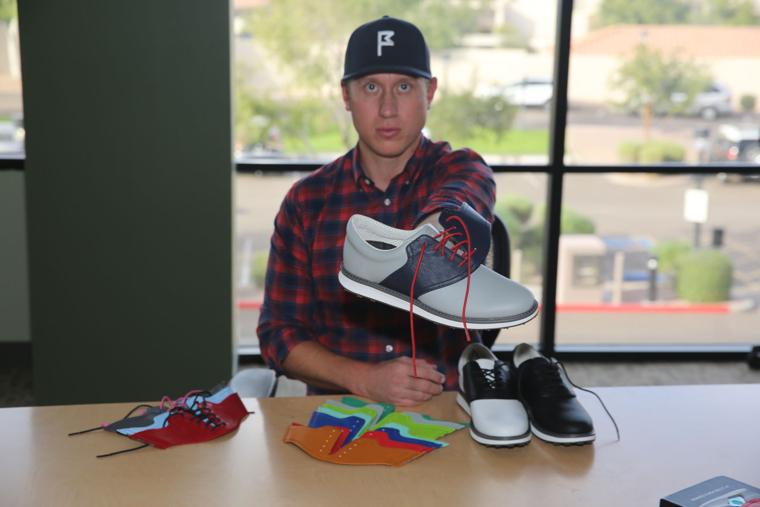 Bart Walker of Ahwatukee holds the golf shoe he designed
Bart Walker of Ahwatukee had an idea.
It morphed into a prototype for a unique saddle golf shoe that can be customized, using Velcro and magnets to change the saddle's color and even add the logos of corporations and sports teams on it.
Walker, 37, a married and the father of two, soon decided that he had found his new calling in life. He quit his banking job, cashed in his 401K and launched Jack Grace USA, a start up named after his two children, William Jack and Estella Grace.
His wife, Erinn, serves as the company's vice president. Walker said his company started with an old shoe he retrieved from his garage. He said he invented the concept on his kitchen table.
Walker said he told Erinn when he married her that he probably would not be a banker forever, and that whenever he found his life's mission, he would pursue it.
"She's probably the most supportive, understanding wife in the world,'' he said.
Walker his wife both graduated from Mountain Pointe High School, although they didn't meet in school.
He scoffed at a reporter's suggestion that he could always go back to banking if his shoe dream fizzled, making it clear he has no desire to do that.
"To me, this is the pursuit of the American Dream. I cashed in my 401K and I'm going for it,'' he said. "I just wanted to work at something I was passionate about.''
It was hard not to notice Walker's passion for his new shoe design as he unloaded three product samples from a black case sitting on a conference table. He has three shoes in different colors and demonstrates how to change their look, adding the Arizona State University Sun Devils logo to a white shoe.
While there are many types of golf shoes and golf apparel. "the shoes were very boring,'' he said. "I designed it myself. I was very fortunate in that I worked with a local cobbler.''
The cobbler is Randy Lucas, who is known as Randy the Cobbler on a popular Instagram account. Lucas is a protégé of his father, a longtime Tempe cobbler. His Instagram page shows how he customizes many types of high end shoes, including Minnetonka moccasins.
"We made an early prototype at 3 a.m.,'' Walker said.
Without the different saddle designs, which attach to the shoes with his patent-pending system, the shoes look like a typical athletic-style golf shoe. They have cushioning for comfort and lugs on the bottom for traction.
He said the shoe's flexibility is among its strongest selling points, allowing a golfer to customize his or her look.
While someone might not want to pay $150 for a pair of ASU Sun Devil shoes, they might like to wear the Sun Devil logo occasionally or wear a corporate logo to a company golf tournament or to a charitable golf tournament a company is sponsoring.
"The millennials want everything to be custom. They don't want anything off a rack,'' Walker said.
He said the Mountain Pointe High golf coach is already ordering shoes for the school's team next year.
Walker views his golf shoes as combining a traditional-looking upper part—a throwback to when golf shoes were dress shoes—with a more modern, comfortable sole.
Walker believes his concept is so flexible that it could be applied to other types of shoes. He said he has contracted with Your Proof of Concept, a Portland, Oregon, consulting firm run by shoe industry veterans who have years of experience working with such large corporations as Nike and Adidas.
The consulting firm serves as a sort of a general contractor on the shoe project, and acts as Walker's guide to the shoe industry. He said the shoe is heading from the sample stage into the production stage.
He said he tried to contact FootJoy, a brand of the Acushnet Co. in Massachusetts and a giant in the golf industry known not only for its shoes, but for its popular Titleist golf clubs, golf balls and golf gloves. But Walker said he couldn't even get past a receptionist.
"I wouldn't want to take them on. I wouldn't want to challenge these beasts,'' Walker said, adding that he wouldn't mind selling his concept to FootJoy someday.
At the moment, Walker is getting ready to launch his shoes for sale on the internet through his web site, jackgraceusa.com. He even has his first sale in mind, $99 for shoes that normally would sell for $160.
"This is what I am supposed to be doing. It's full force,'' Walker said.
---